Best ways to protect your rental property in Kalamazoo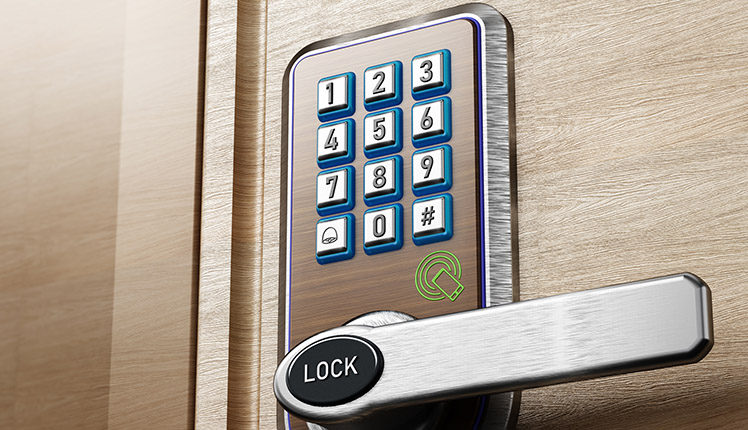 Irregardless of whether you lease out the family lake house or you run a diverse portfolio of Airbnbs, you may find it a challenge to protect your rental properties in Kalamazoo. With physical keys going to multiple renters, it's normal to worry about disappearing valuables or former guests showing up out of the blue. And what should you do when there's a flood or fire at the property while you're offsite?
From smart door locks to fully automated security systems, here are some helpful tips on how to protect your Airbnb in Kalamazoo.
Put away keys with your Kalamazoo smart door locks
When a renter checks out, they may follow your instructions and provide the keys for the ensuing occupant. Although, if they grabbed or copied a key, they could access your place again later. Needless to say, you could replace your locks if a key goes missing, but that takes time and money.
Fortunately, you are now able to put in smart locks that work alongside your security system to put these concerns at ease. You can then give each visitor their own unique entry code. When they depart, there's no need to worry with the key exchange. All you need to do is customize the temporary code to deactivate after they're gone. If past inhabitants return and try their previous access code on the door, you will receive an update of the failed attempt on your smartphone.
Home automation makes vacant units appear to be inhabited
Of course, you hope that your Kalamazoo rental property will be occupied, but that won't always be true. Despite this fact, you need to make it seem that someone is home so your rental isn't targeted by thieves. Implementing a security system with home automation gives you the chance to use smart light bulbs, motion sensors, and security cameras that make your lodging seem lived-in.
Start by setting your smart lights to come on at specific hours of the evening. You will also want your security app to warn you if your exterior cameras detect an unwanted guest lurking around your perimeter or coming to your main entrance. You can use the two-way audio feature to make them know they're being watched or set your lighting to automatically illuminate when a surveillance device or motion detector uncovers something unusual.
Protect your Kalamazoo rental property with around-the-clock monitoring
Your tenants will be more relaxed if they feel protected from criminals, specifically when Kalamazoo is somewhat unfamiliar. When a thief attempts to break in, your home alarm system will not only sound a siren but will also notify your around-the-clock monitoring team. Now, no matter where you are, assistance will be on its way. Your monitoring agents can even act as your primary contact and patch you in whenever you're free.
Along with intrusions, your monitoring center can be connected with fire alarms, flood sensors, and carbon monoxide sensors. It is likely to be distressing for your renter if a water heater springs a leak or something catches fire. Not only will you get a phone notification that an urgent situation has taken place, but a representative will also arrange for emergency services while you're en route.
Get started with your new home security system in Kalamazoo
Protect your Kalamazoo rental property with a home security system. Thankfully, Vivint offers popular choices like smart lighting, smart locks, and around-the-clock monitoring. Reach out today and our home security experts will help you customize a system that makes sense for your property. Dial (269) 280-0186 or submit the form to get started!